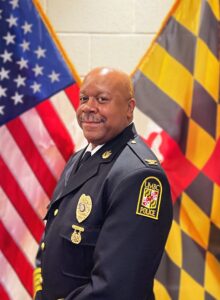 It is my honor and privilege to be a part of the UMBC community and to serve as the Chief of Police. The UMBC Police Department is the cornerstone of a comprehensive institutional strategy to maintain a safe environment for our students, faculty, staff, and visitors.  The UMBC Police Department is comprised of experienced diverse police professionals who provide full-service law enforcement responsibilities, police communication professionals who provide a first point of contact for police services, and a highly trained civilian staff who provide support for the Police Department mission. More importantly, the UMBC Police Department facilitates a positive and active relationship with you, the members of our community, who are our most important resource in keeping UMBC the safe and secure institution we have all come to enjoy.
The most important crime prevention efforts are accomplished through mutual trust, cooperation, and collaboration between the Police Department and the community we serve and of which we are a part.  Our agency's continued success is largely attributable to this teamwork approach with each and every member of the UMBC community to collectively take an active interest in the safety of our institution and community members.
I appreciate your interest in the UMBC Police Department and the services we provide, and invite you to browse this site to acquaint yourself with our organization, our mission, and our commitment to the UMBC community. I speak for everyone at the UMBC Police Department when I say that we are proud to be a part of the UMBC community, to serve you with our best effort each and every day, and we appreciate the support and trust we have earned with you as we work on your behalf, and with you, to keep UMBC safe.