2018 Scam Alert
---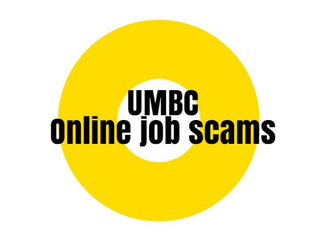 A re-occurring crime on UMBC's campus is the "Online Job Scams". Job seekers who use online job search web sites must be careful to avoid a type of job scam in which the applicant is asked to accept payment to his or her own bank account. These scams are known as "payment-forwarding" or "payment-transfer" scams. These scams involve a con artist who pretends to be an employer and uses a job advertisement to lure an unsuspecting job seeker. Conartists are quite convincing, and may even use company names and corporate logos to convince victims that they are legitimate employers.
There is NO chance of recovering funds or arresting these criminals.
Red flags:
1. Do not forward, transfer, or "wire" money to an employer.
2. Do not transfer money and retain a portion for payment.
3. A contact email address that is not a primary domain. For example, employers calling itself "Omega Inc." with a "Yahoo!" email address.
4. Misspellings and grammatical mistakes in the job ad.
5. Monster .com lists descriptive words in job postings that are tip-offs to fraud. Their list includes "package-forwarding," "money transfers," "wiring funds," "eBay," and "PayPal."
6. World Privacy Forum researchers also found that the terms "Foreign Agent Agreement" often appears in contracts and emails sent to job seekers.
7. Interviewers who tell you-you're a finalist even though you haven't had much of an interview.
8. Companies that you can't find references to in search engines or on sites like the Better Business Bureau. Conversely, companies that are established, but the contact names, numbers and email addresses don't match up with what you've received. This could indicate someone's just borrowing a legitimate company's name.
Contact Detective Chester Smith at smithcht@umbc.edu or UMBC Police at police@umbc.edu for assistance.
---
Sextortion Email SCAM
There is a "sextortion" email traveling across the world, hitting millions of email boxes since early July 2018. "This new Bitcoin blackmail scam is circulating; this time based on passwords from website breaches. This extortion email is likely to be less effective than the paper letters because it's full of obvious errors." It begins with this statement (with misspellings included):
I do know, XXXXXX, is your password. You do not know me and you're most likely wondering why you are getting this e-mail, right?
In fact, I actually placed a malware on the adult vids (porno) website and guess what, you visited this site to experience fun (you know what I mean). While you were watching videos, your browser began operating as an RDP (Remote control Desktop) having a keylogger which provided me access to your display screen and also cam. Immediately after that, my software gathered all your contacts from your Messenger, FB, as well as email.
Writers have theorized that the outlook.com sender's address is spoofed; this almost certainly didn't pass through the outlook.com email system. Source: https://withoutbullshit.com/blog/a-second-bitcoin-blackmail-scam-based-on-hacked-password
Please let us know at police@umbc.edu if you received an email like this. An internet search will show that this email has arrived in emails across the US and UK. A google search will show the many variations of the letter. Do NOT respond to the email- or send money via Bitcoin. It is likely that the subjects committing this fraud reside outside of the US jurisdiction.
---
On-Line Immigration SCAM
A re-occurring crime on UMBC's campus is the "On-Line Immigration SCAM." This can involve a telephone caller or an e-mail where the caller/ sender falsely identifies themselves as members of the United States Department of Homeland Security. It is so common; that the governmental agency has listed a section of their website for scams to avoid.
The student is ordered to send immediate payment through the use of a "Google," Western Union, PayPal, or Green Dot payment cards. The scammers use these forms of payment as they do not force the scammer to reveal their true identity. They threaten to deport anyone who doesn't cooperate.
Con artists are quite convincing; the term comes from the longer form: "Confidence Man" – someone skilled at gaining your confidence in them. They use nasty, foul language or threats and are unprofessional. This is NOT how the US Government acts.
Do not forward, transfer, or "wire" money to the requestor.
They demand immediate payment.
The use of unprofessional language, nasty or threatening words or actions. US government employees are instructed to perform their duties in a businesslike fashion. Suspect anyone who is un-businesslike.
A contact email address that is not a primary domain. For example, US Government emails always use the domain:  ".gov"
If you are a victim or suspect that a caller or e-mailer is committing a scam directed at you or another member of our campus community; Contact: Detective Chester Smith at smithcht@umbc.edu